The three of us on Exmoor
Posted on April 12th, 2018 by Dom Millar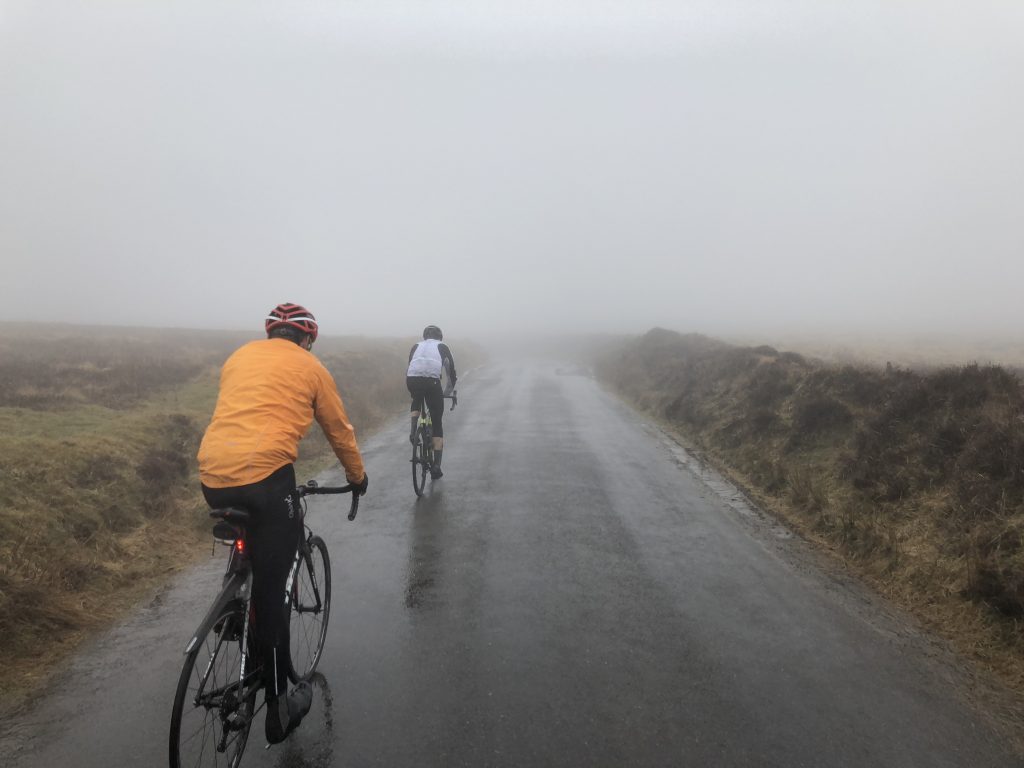 So Graham, James and I planned to do our first big test together this week. A day cycling in North Devon / Exmoor, similar in difficulty to a typical day of the big ride in August.
Starting from our base for the week in Croyde, I planned a route of 175km with 3,500m of ascent including 4 of the 100 Climbs. A tough day, and a real test of how prepared we are four months away from the off.
Checking the weather hourly the day before didn't make the forecast any better. Heavy rain and very breezy in Croyde in the morning, improving slowly during the day. The guys had come down especially so we couldn't back out now, and we have to expect to ride in all weathers during the challenge right? But I still knocked 10km off the proposed route…
We planned to surface at 7am, for a prompt 8am start. But even though it was just three of us, the usual 'bike faffing', comparing notes on how many layers to wear, and more 'bike faffing', meant we were running really late.
Finally with all three of us on bikes, I pressed 'start to navigate' on my brand new, top of the range, Garmin 1030, and it promptly turned itself off. I started it up again, loaded the route, and it turned itself off again. Arghhhh. James stepped in and 10 minutes and many Wifi codes later we were finally on the road, and knowing where we were going. We ended up leaving 40 mins late. That simply couldn't happen on The Challenge.
James, Graham and I have cycled together as part of larger groups, but this is the first time just the three of us have cycled together, and we're going to have to get used to it! We were working really well as a team on the flat as we rolled the 40km or so towards Exmoor. However North Devon is not very flat and everyone takes hills at differing paces (and yes it was yours truly who was at the back!).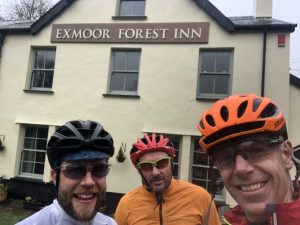 The weather was turning and we were wet through and bitterly cold as we descended steeply into Lynton, passing 25% gradient signs, and knowing we'd have to climb out again. Time to prepare for our first 100 Climbs of the day over coffee and cake.
Refuelled and slightly warmer, we started the Exmoor Forest climb which is almost 11km with 400m of climb. Leaving the town we followed a stunning river-cut gorge up and up onto Exmoor. Visibility was limited due to the mist, so we can't wait to see the views when we come back in the Summer.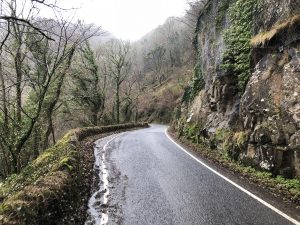 We decided to do all the climbs at 'our own pace' which invariably meant James and Graham were waiting for me at the top. The length of this climb meant they were waiting quite a long time, and although they were far too diplomatic to say exactly how long they'd waited, they looked very cold! After all the earlier bike faffing, we'd still not dressed adequately, and fingerless gloves were a mistake too. We quickly found another coffee.
And then it was on to Porlock, for two more of the 100 Climbs; Dunkery Beacon and the infamous Porlock Hill, rated 10/10 and 9/10 respectively in Simon Warren's book. I was nervous.
As we climbed from Exford the road narrowed and James and Graham went on ahead to 'keep warm' although I have a suspicion they were just trying to avoid my incessant banter. After several miles I caught them up, and as the mist cleared a bit I could see why. Two huge bulls (possibly horned cows) were blocking the road. The guys sent me ahead to clear the path, helpfully pointing out, too late, that I was wearing red! Thankfully the locals were friendly.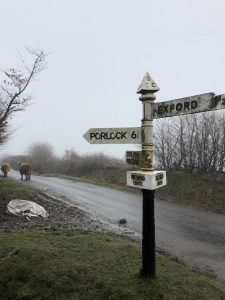 As we then climbed onto the moor visibility dropped to less than 30 metres. Although cars were few and far between they could only see us at the very last minute and it was pretty dangerous. James disappeared behind us, there was clearly a problem. Turns out he was having his own Garmin issues. Probably because of the sudden bull-related stop, the incident detection system had activated and James's wife had received a message saying he'd been in a collision! Time for a reassuring phone call.
With all of the distractions we missed the planned turn for Porlock and continued climbing 3 or 4 unnecessary miles into the mist. We came to a junction and started a long, very steep descent. Passing a 25% gradient warning (and it felt much more than that in places) we realised we were going down Porlock Hill, Britain's steepest A-road. With freezing hands it was a struggle to put the brakes on. This was a most convincing argument for disc brakes on road bikes, and apart from genuinely being worried about going over the handlebars at one point due to the gradient, all I could think about was how the hell was I going to climb this monster.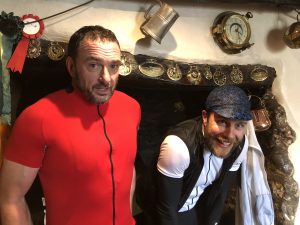 We sought sanctuary in The Ship Inn in the town at the foot of the climb, to dry out a bit and assess our options. James and Graham huddled together in front of an open fire and initially found it impossible to drink a hot chocolate because they were shaking so much. I'd underestimated just how cold they'd got. Much to their annoyance I was OK cold-wise, but I was struggling with my own demons. I couldn't stop thinking about Porlock Hill. Even if we didn't climb it today we would have to do it in the Summer. Most of my limited experience of the 100 Climbs comes from the much tamer lumps of Surrey, Sussex and Kent. Could I physically pedal my 86kg body up that slope? Was this whole Challenge a non-starter?
The guys thawed out and we discussed our options to address the immediate predicament of getting out of Porlock, back on Exmoor and the unrelenting rain and cold, and the road back to Croyde in the shortest distance possible. We'd been in the pub for almost 2 hours, and there was a unanimous decision to abort. We even asked the bartender for the number for a cab! But given the enormity of the Challenge ahead this year surely we couldn't fall at the first hurdle? We invoked Rule #5 (look it up if you're not aware of The Rules) and decided there was only one way out of this, and it had a one in four gradient.
We decided to stagger the starts so no one had to wait for too long at the top, so I grabbed my bike and rolled down into town, and the start of the Porlock Hill Strava segment. I conserved my energy on the initial climb, knowing too well what was coming. Out of the saddle, thighs burning, I climbed the switchbacks like a ladder, hoping for some respite around the next corner. The road finally straightened and there was still another mile or so to go, but I knew I'd passed the worst of it, and had it conquered. A wave of elation came over me. This crazy ride was perhaps possible after all. The Challenge was back on.
No sign of Graham or James yet, the road flattened significantly as I went over a cattle grid onto Exmoor, the mist once again limiting visibility. I knew the top, the end of the Porlock Hill segment, was beyond the left turn to Exford so kept going until I crested and started rolling downhill. I descended another 150 yards, just to make sure, and then u-turned and headed back to the Exford turn-off where we regrouped and high-fived each other in the relief of not taking the cab option!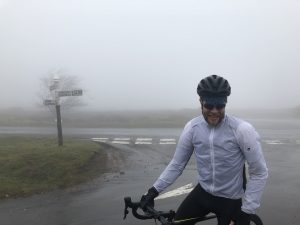 However, subsequent analysis on Strava showed we'd all missed the Official 100 Climbs segment. We were close, but far enough away for it not to count. This clearly couldn't happen on the real thing.
We rolled back westwards towards Croyde and almost immediately as we passed over the Somerset/Devon border the sun came out and the roads dried. It became a totally different ride, and spirits lifted. We discussed the day's numerous events, planned procedures and divided responsibilities. At 141km with 2,700m of climb, it hadn't been the ride we'd planned, but in a way it had been more useful, throwing up all sorts of issues we'd not thought about.
Lessons learned:
• Don't rely on the guidance tech working. Have a back-up, and a back-up for the back-up, and then a plan 'b' and 'c' etc…
• We need to ride to a strict schedule, and stick to the schedule at all costs, including coffee and food breaks.
• Don't assume you've ridden the entire hill just because you start descending.
• Never trust the British weather. Check the forecast at the starting point, the destination, and everywhere in between.
• We need to prepare for almost every eventuality.
• We can NEVER do enough training for this.