Our visits to Boardman Performance Centre
Posted on August 14th, 2018 by Dom Millar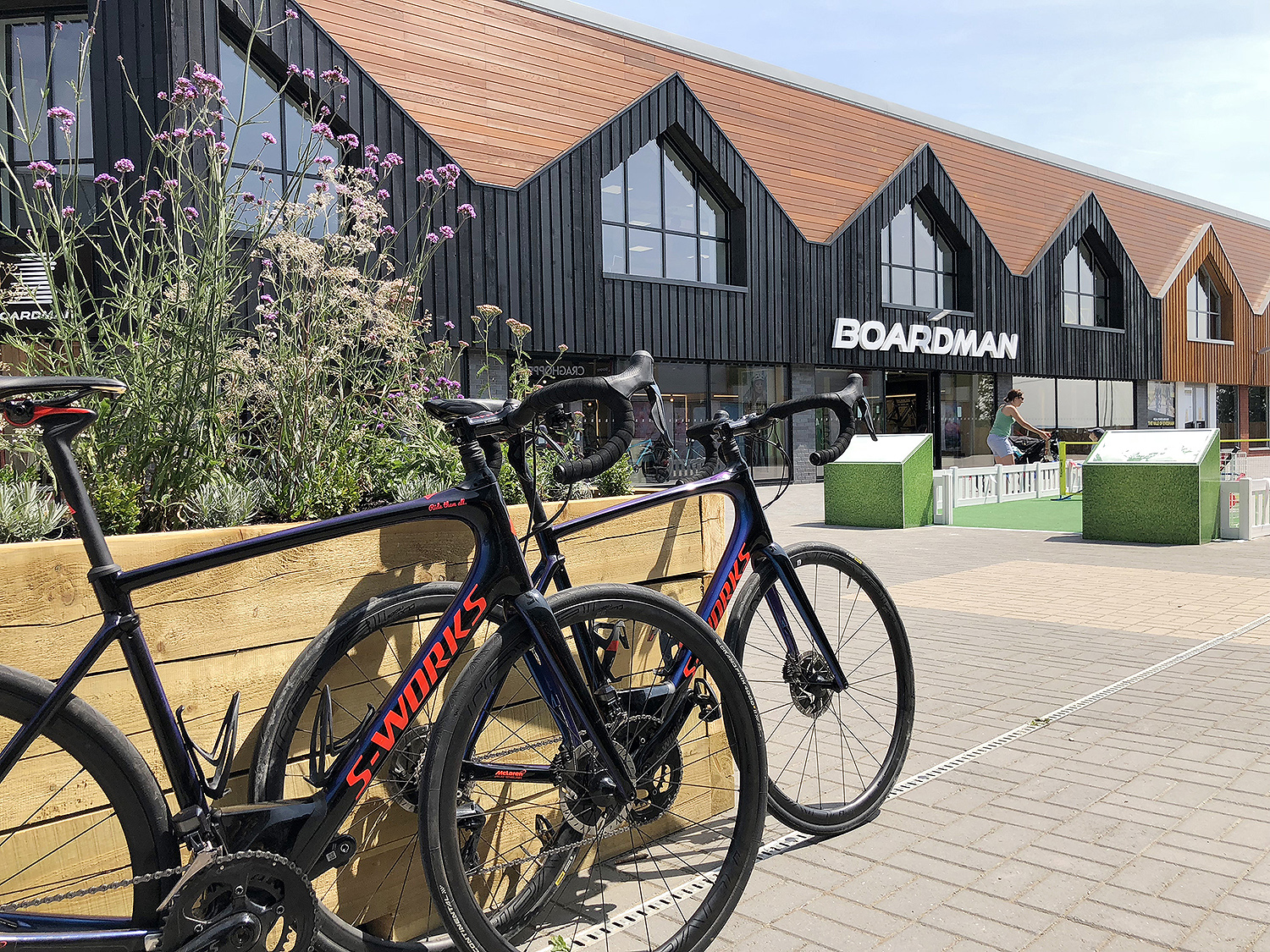 Our ambition to cycle 5300km over just 29 days inevitably means we will be spending a lot of hours perched on our bikes! A property bike fit is therefore imperative and every contact point between rider and bike needs to be correctly set-up and carefully tuned.
The brand new Boardman Performance Centre very kindly invited us to come and see their new facility at The Valley Shopping Park in Evesham in order to optimise bike fit. The first thing to say is "wow!".
This all new facility is simply amazing. The showroom stocked with very pretty "bike porn" on the ground floor is matched with high tech lab facilities and a mind blowing wind tunnel upstairs. The walls are adorned with Olympic and world record winning bikes ranging from Chris Boardman's hour record Lotus through to the Boardman TT bikes used by the Brownlee bothers during the London Olympics.
The wind tunnel itself is the size of a couple of houses yet is calibrated to measure and moderate millimetre accurate precision in rider setup, not only in headwinds but also in the simulation of crosswinds. It is fantastic to see this investment into cycling in the UK, particularly in a facility that is focussed on delivering accessible technological advancement for grassroots riders as well as the professionals.
Our sessions involved each of us being assessed in detail by Bianca "The Saddle Whisperer" Broadbent for mobility and flexibility before careful bike fit based on biomechanics.
We each quickly learnt the importance of stability and positioning on the bike through the use of BioRacer Motion technology. Clever infrared cameras and body markers mapped the movement of each joint from toe to shoulder and recorded them in both a vertical and lateral planes in detailed freeze frame video.
In turn this informed everything from cleat positioning through ankle, knee and hip movements to reach, neck and spine comfort.
For each of us this meant new heat moulded custom footbeds to deliver improved symmetry and stability in our pedal stroke.
Our saddle heights moved up, down and aft; saddle pressure was mapped and some significant setup changes were made to bikes that we were under the impression already fitted well!
A few deep intakes of breath and sounds of horror as Graham's saddle pressure results came up on screen and indicated just how bad some elements of our fit were. Apparently the highest pressure points they have seen so far! After trying various options showing different levels of improvement, a new saddle was quickly purchased.
Stem lengths tweaked (Dom), narrower replacement bars (James). Dom also established that he has a slight back-related blip on the pedal stroke with his right leg which the team suggested some exercises to smooth out.
We really can't thank the team enough for their time and efforts and sharing their expertise with us. Many thanks also to the guys at Eagle One and The Valley Shopping Park for helping set the session up. We are really looking forward to seeing you guys on the road on Day 27, Sept 16th.
The only problem now is that we are running out of excuses! We have great bikes which have been expertly fitted and tuned. We have had wonderful support from Surrey University for our training and fitness assessment and we have the best food for the ride from Velaforte. Just down to us now…
We are still looking for riders to come and join us to take the wind. Why not sign up now?